WTUA- Representing the interests of Wirral's transport users since 1985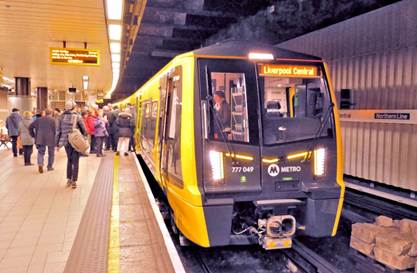 What we do
The Wirral Transport Users Association exists to promote
modern public transport systems for the Wirral, Merseyside and West Cheshire area. The WTUA has a watching brief over the public transport operations in the Wirral and their connections to the rest of the country. It acts as a pressure group and represents the transport interests of public transport passengers in the local area- it has representation on the Merseyside Integrated Transport Forum and is affiliated with Railfuture, Passenger Focus, Travelwatch North West, Bus Users UK and the Campaign for Better Transport.
We keep our members up to date on public transport
developments with our newsletter published once or twice a year. The annual AGM has a talk from a representative from the transport industry or from a transport interest group. It also includes a briefing on the significant developments of the past year and proposed future developments. We produce one or two newsletters a year and, depending on circumstances, we run coach excursions to places of transport interest once or twice a year.
We support campaigns for:
· A half hourly service on the Wrexham Central - Bidston railway line and also its conversion to use electric-powered stock.
· A new railway station at Ledsham.
· Improvements to those existing stations which currently have poor access and provision of bus/rail and car/rail interchanges.
For photos and movies of our past trips and a summary of our AGMs, see Past Trips and Events. For details of our next AGM and planned trips, see Future Events. Any outstanding developments in public transport in our area will be notified in the News page. Our newsletters are accessible from the Newsletters page. A list of other Transport User groups is given on the Local Transport Groups page. A short history of the railways in Cheshire is given in History of Rlwys in Cheshire. A statement of the Association's aims as formalised in its Constitution is given in Our Aims.
JOIN US TODAY! - The more members we have, the more pressure we can exert on the transport providers. To join, see the Applic Form page. Members receive notification of trips, the AGM agenda and the Newsletter. They also have priority over non-members for places on trips, (if they reply within a few days of notification). Should you join the Association, your involvement can be as much or little as you wish. If you have any skills related to committee work or public transport and want to get involved, you would be more than welcome to join our committee (which meets once a month).
Contact Us
If you want more information about the Association or to inform us about a transport problem, contact us through the Chairman:
John Ryan- 48 Hornby Road, Bromborough, Wirral CH62 2EG
or email- wirraltua@gmail.com
To report an error on this website, please use the above email address.
[Page last updated/checked 07/11/23